HVAC, DUST COLLECTION, PAINT AND FINISHING
Dust collection is a process used in many industrial and commercial processes to remove granular solid pollutants from exhaust streams or process-generated dust prior to venting into the atmosphere. Dust collectors can also used to maintain the quality of interior air in dust laden work environments.
While there are many different designs and sizes of dust collector systems, most systems typically include a blower, a filter, a filter cleaning system and a receptacle to hold sediment. Most commonly, dust collector systems will use either bag filters (in dust collector bag houses), or cartridge filters, depending on the requirements for the environment in which they are operating.
It is important not only to ensure that replacement bag filters or cartridges are sized appropriately to avoid bypass through the system, it is paramount that replacement filters are matched to the air quality requirements, operating temperature, moisture content and PH of the air flow. There is a wide range of media, efficiencies, and designs to dust collector filters, and the selection process for your replacement filter may not be straightforward. Our technical team can ensure that a replacement cartridge or bag filter is properly matched to your system, delivering the result that you require for your operation.
Micron Rating: 1, 5, 10, 25, 50, 100 and 200 micron
Media: polyester felt
Configuration: Plastic Flange, Stainless Steel Ring, Commercial Ring, Custom
Construction Materials: Filter Media, PVC/SS Ring
Sizes: See our sizing guide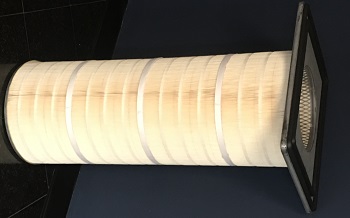 Cement and Minerals
Chemicals and Plastics
Food ProcessingFoundry
Glass
Grain, Agriculture and Feed
Laser Cutting
Metalworking
Mining and Minerals
Pharmaceutical
Plasma Cutting
Thermal Spray
Welding
Machine Shops and Woodworking