SPILL CONTAINMENT & ENVIRONMENTAL
Be prepared for emergency spill response with an expertly designed spill kit – packaged with speed and cost in mind, our range of kits can accommodate any of your work-site requirements.
Our universal spill kits contain everything you require to clean up oil, solvents, coolants and water. An effective spill control strategy is essential for a safe work environment, and our universal kits are a must for environments working with a range of different fluids
Our oil spill kits contain all requirements necessary to effectively respond to an hydrocarbon-based fluid spill. These kits include not just sorbents, but also gloves, a guidebook and disposal bags.
Our chemical spill kits are similarly designed, with all the materials necessary to react quickly in the event of a Haz-Mat spill. Green in colour, the sorbent materials found in our aggressive liquid spill kits are designed to soak up oils, coolants, solvents, acids and most bases.
Download our complete catalog of environmental products here.
Sorbent Media: polypropylene oil only, univeral, aggressive
Contents Can Contain: sorbents (pads, socks, pillows), granular, repair putty, disposal bag, nitrile gloves, goggles, emergency response guidebook, tote (portable, stationary)
Sizing: From 19 liter (5 gallon) 'cab' spill kits to 600 liter (160 gallon) XL tote kits, customizable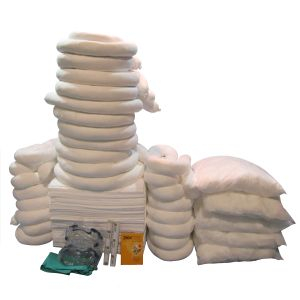 General Industrial
Marine Environments