SPILL CONTAINMENT & ENVIRONMENTAL
Containment is a broad description for products that are used for the temporary or permanent storage of hazardous materials at a work-site.
The most common temporary containment products are containment boom, used in marine environments. These are temporary floating barriers that are a first response to a spill while at sea. These products are available in a variety of sizes, and their fast deployment is critical to the effective control of a marine accident.
Permanent containment products include spill pallets, overpack containers and hardcovers and other products for the safe storage of drums. All of our containment products meet the regulatory approvals the EPA, SPCC and Environment Canada. We also have a line of metal storage cabinets for hazmat storage, flammable liquids, acid/corrosive material storage and pesticide storage.
Flexible containment products refer to the range of portable, lightweight and soft sided containment products that are appropriate for mobile work-sites and/or temporary installations. From the in-field maintenance of a train locomotive, to a temporary hazmat site, we have the range of products that can help ensure your work environment is safe from causing environmental harm.
Download our complete catalog of environmental products here
Product Range: marine containment boom, poly containment, flexible containment, steel containment, safety cabinets, accessories
Sizing: ranges depending on product assortment
Download our complete catalog of environmental products here.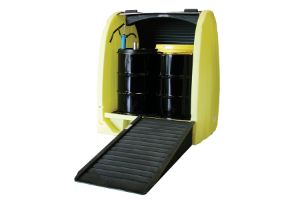 General Industrial
Marine Environments